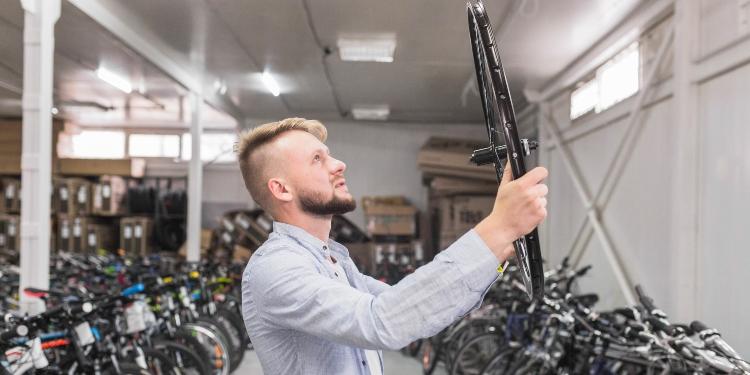 Bianchi has been able to adapt quickly in the face of the incredible increase in demand for bikes caused by the pandemic.
In this article we are going to tell you how Bianchi handled this situation and the proposal that he has created in a unique moment in history
One of the effects of the COVID-19 pandemic was an explosive increase in demand for bicycles to unprecedented levels. This caused many shops to run out of stock.
Bicycle manufacturers were forced to increase production to such an extent that they often ran out of materials.
This article will describe how Bianchi handled this situation and the proposal they created at a unique moment in history.
Why did demand increase as much as it did ?
The main reason behind the pandemic's surge in demand for bicycles was the fact that they were rediscovered as a healthy and sustainable means of transport. It was an ideal way to do sport in the open air, avoiding crowds of people.
This made hundreds of thousands of athletes should decide to choose cycling as their new method of exercise: personal, safe and with a very simple implementation of social distance.
This is how Bianchi tackles the high demand
Bianchi has set out to be an important and active part of this change. As such, its mission has been to help as many people as possible to enjoy a bike.
However, due to high demand, both Bianchi and other companies in the industry have encountered numerous stumbling blocks. Some of the main ones have been both the high demand and shortage of components, as well as the logistical problems we have experienced in recent years.
In order to solve these problems and get customers on their new bike as soon as possible, Bianchi has been actively working to reduce delivery times.
As the company's own press department states, some of the most important points on which they have focused their attention are:
- Increase production capacity.
- Find new shipping options.
- To have greater proximity to distributors.
- Build a new factory of more than 30,000 square metres, in order to have greater control over the entire production process.
In addition, and to make it even easier for every customer to enjoy their bike as quickly as possible, whether they are urban commuters, experienced road riders or dedicated mountain bikers, they offer a number of recommendations to reduce delivery time:
-Don't waste precious time. As there are a limited number of components, the first to order is the first to enjoy it. So don't wait any longer and confirm your order before another cyclist orders before you.
-Be flexible. If you want to ride your Bianchi bike as soon as possible, be adaptable to its specifications. By choosing another colour, or changing a component, it is possible to considerably reduce the waiting time to ride your new bike.
As we can see, Bianchi has been able to adapt to the constant changes in the market and the high demand that has arisen. If you also want to buy your new Bianchi bike, contact us and we will help you with no obligation.