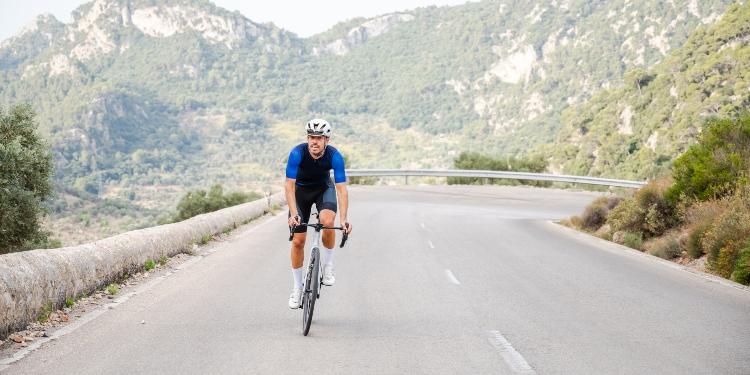 You want to climb mountain passes and break the record? With these tips, you'll climb a mountain pass even faster.
Mountain passes are a preferred stage for many cyclists, to test yourself in a challenging environment, where the effort and suffering go hand in hand with pleasure and enjoyment.
Surely you want to improve the performance climbing hills. That is why, in this article, we are going to give you the key tips and tricks to help you improve your performance and climb mountain passes more quickly.
Ready ? Let's get started !
1. Progressive efforts
One of the most common mistakes among those who want to improve their personal best climbing a mountain pass is to accelerate the pace at the beginning of the stage, while they are at their freshest.
Although this might seem like a good idea at first glance to lower times and climb faster, it could take its toll later on. If you push too hard at the start of the stage, you will probably end up paying the consequences a few kilometres further up.
Ideally, it is best to make a gradual climb, and start with a moderate intensity. That way, as you climb, you can regulate your efforts and be strong enough to give it your all on the last stretch.
2. Don't forget your supplements
If your goal is to climb a mountain pass faster, we are certain that it is going to be a physically strenuous climb. Therefore, it is vital that you remember to prepare the necessary supplementation to avoid the dreaded "colapse".
It is better to prepare your supplementation before the climb than to have to slow your pace to take a bar or drink from a bottle. Ideally, if you want to reduce your time even further, opt for quick-dose supplementation, like a gel. In this way, you will lose as little concentration and cadence as possible on the climb.
3. Study the climb
This is a point that is often overlooked, yet it is vital if you really want to make the ascent the fastest. Studying the altimetry of the climb and planning your strategy will help you to know how to adapt your effort along the slope.
You will then be able to save your strength for the right moments and know in advance the sections where you need to recover your strength.
It's a simple tip, but one that can help you make a big difference in your time.
4. Better together
Climbing a mountain pass with a partner who is a tad stronger than you can help you do it faster. If you use their wheel as a reference and use it as a psychological stimulus, you can close the gaps with a little effort. An effort you wouldn't make if you were on your own.
We hope that, thanks to these tips, you will be able to improve your times and performance on your next mountain climb.
At Bike Experience Tenerife we take you on the most beautiful cycling routes in Tenerife. Consult our different routes around the island or contact us to find out more about mountain bike stages in Tenerife.