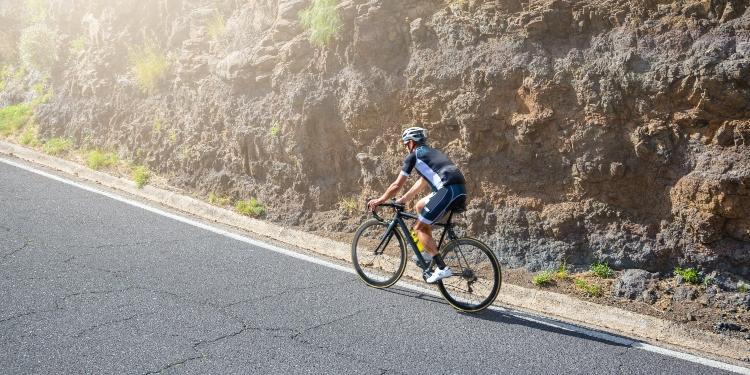 Have you ever wondered why professional cyclists come to Tenerife to train? In this post we tell you the keys
Tenerife: training destination for pro riders
To be in shape and give the maximum in each competition, it is essential that professional athletes train continuously.
More than maintaining physical condition, elite athletes need to increase their abilities, to continue improving and achieve superior results.
Always exercising under the same conditions can be a stumbling block if the goal is to increase physical power. In this article we tell you what are the reasons that have led hundreds of high-level athletes from around the world to train in the Canary Islands.
Reasons to train in Tenerife
Professional athletes from many disciplines come to Tenerife to train for many reasons. But, specifically, we are going to focus on the reasons why high-level cyclists train on our island.
Weather conditions
One of the most obvious is the climate of the islands. Thanks to its "perpetual spring", it offers excellent climatic conditions throughout the year.
The average temperatures of the archipelago are 23 degrees in summer and 19 in winter. This, added to the low rainfall, make the islands the ideal place to train, regardless of the time of year.
Unique orography
Beyond the good weather, one of the main attractions of training in Tenerife for professional cyclists is the extraordinary terrain conditions, with long and steep climbs.
Thanks to its unique orography, it is possible to go from sea level to 2000 meters of altitude in a very short time. This is a great advantage for cyclists looking to increase their physical performance.
Good roads
Tenerife has a very peculiar network of roads. Due to its wide variety and its good conditions, it is postulated as an excellent destination in which to exercise at high intensity.
This is, without a doubt, a basic point to value for any cyclist or team looking for a place to carry out their training.
Hypoxic training
Last but not least, there is the possibility of training on altitude.
Hypoxic training offers many advantages for athletes. On top of Tenerife, due to atmospheric pressure and the decrease in available oxygen, this effect can be obtained naturally.
Advantages of training in Tenerife
With all the reasons we have seen, it is not surprising that cyclists like Alberto Contador, Primoz Roglic, Chris Froome or Vincenzo Nibali choose to prepare in Tenerife.
Some of the advantages enjoyed by those who decide on the islands for their training are:
● Increased resistance.
● Increased ability to maintain force more consistently.
● Reduction in recovery time.
● Increased tolerance to fatigue.
As if that were not enough, all these benefits are noticeable up to 15 days after training on our islands.
In the words of one of the members of Team Jumbo-Visma: "There is no better place in the world to train for altitude". It is not surprising that the best teams in the world come to Tenerife in search of improving the resistance and performance of their cyclists.
If you want to enjoy all the benefits of doing the Teide route, contact us and book your route and the queen stage of Tenerife.